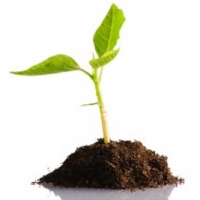 Gardeners for God
By Amanda Bowles | July 1, 2015
1 Corinthians 3:6-9 King James Version (KJV)
6 I have planted, Apollos watered; but God gave the increase.

7 So then neither is he that planteth any thing, neither he that watereth; but God that giveth the increase.

8 Now he that planteth and he that watereth are one: and every man shall receive his own reward according to his own labour.

9 For we are labourers together with God: ye are God's husbandry, ye are God's building.


We may never know when we're planting or watering a seed. Every person we come in contact with is a chance to spread God's love and His Word. We may be the first time a person sees or hears about Jesus or we may be adding to a foundation that someone else started. Either way, we're gardeners for God. Planting seeds, tending seedlings, or reaping the harvest, every part is important. Even if you never get to see the harvest, know that you're doing your part in God's Kingdom.

Back