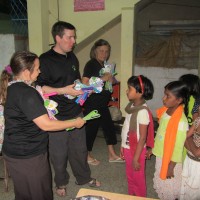 God Wants to Use You
By Julie Endle | May 2, 2012
God Wants to Use You
For the past few weeks Pastor Wyn has touched on the subject about stepping out with God. I would like to encourage you on the same lines about not letting your gifts and calling go to the wayside. I am thankful God is in the repeating business.
I want to ask you, when it comes to the Gifts of the Spirit, Ministry Gifts or the Plan of God, are you in ACTIVATION stage or the DORMANT stage? There are many excuses why the church body has not stepped out in the gifts or calling God has planned for them to do. Moreover, there are even some that have once operated in the Gifts of the Spirit, but no longer do.
Gifts and plans can lay dormant for years. If you haven't been operating in these areas as you would like, no worries, God is lovingly and patiently waiting for you. He wants to use you. In Romans 11:29 - For the gifts and calling of God is without repentance.
Even the prophet Jeremiah in the old testament, who God was calling into a life of ministry, even had a bit of doubt. Jeremiah 1:7 - Before I formed thee in the belly I knew thee; and before thou camest forth out of the womb I sanctified thee, and I ordained thee a prophet unto the nations. Jeremiah says to God, "I am but a child". The Lord, in turn, tells Jeremiah, "Say not I am a child." God's plan was always there for Jeremiah. It was just waiting for activation.

God will wait for you just like he waited for Jeremiah, Jonah, and Peter. Sometimes we think since we messed up in life, God won't use us. This is a lie from the enemy. God wants us to come into fellowship with Him and be used by Him. When we are surrendered to Him, it's easier to HEAR from Him. We may not be a Prophet or an Apostle, but God is calling us to do what needs to be done today.
There have been times in the past I have doubted God when it came to being used in the Gifts of the Spirit as described in 1 Corinthians 12. Even though I had doubted, God was faithful. Excuses will hinder us, and therefore God's plans may remain in the "dormant" stage.
2 Timothy 1:6 - Wherefore I put thee in remembrance that thou stir up the gift of God which is in thee by the putting on of my hands. When making a cake, the ingredients will lay still until one stirs it; once stirred the cake is in it's activation stage and ready for baking. Stir up the Gift!
Back