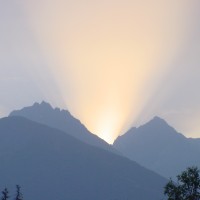 Pray
By Laurie Beaulieu | October 1, 2012
Prayer is our direct link to the Father. We have many opportunities to pray each day, for ourselves, those in our lives, those in authority over our country, the nations, men and women in the service of our country, the lost....
Here are some points to remember as you pray.
Pray to the Father in Jesus Name, with confidence, knowing He is Almighty God and nothing is too hard for Him. Let our prayers be laced with praise and worship even as the Israelites marched around Jericho and put their worshippers out front in the face of the enemy and adversity and said nothing but SHOUTED praise and worship BEFORE the victory was apparent.
"Our Father who art in heaven, hallowed be Thy Name."
Know that when we pray, our Father hears us and we have what we ask now, today, even if it takes time for it to be manifest in the flesh.
Now this is the confidence that we have in Him, that if we ask anything according to His will, He hears us.
And if we know that He hears us, whatever we ask, we know that we have the petitions that we have asked of Him (1 John 5:14-15).
"Give us this day our daily bread."
Pray the word of God over each person and circumstance as the Spirit of God leads you. If you don't know what Gods will is, study the subject out till you have God's will in His word.
"Thy kingdom come, Thy will be done, on earth as it is in Heaven."
Come before the Lord after examining your heart, so you will have confidence knowing Jesus paid the price for us to stand pure and Righteous before the Father so we may come boldly to the Throne of God and receive grace and help in times of need.
"Forgive us our trespasses as we forgive those who trespass against us."
Remember Jesus is the AUTHOR and FINISHER of our faith. It doesn't matter where we are in our walk with God, or how long we've been saved. It is not by our power or our might but by the Spirit of God that we are saved, by His Spirit that we stand, by His Power that we are victorious. In the same manner it is by His Spirit that those we pray for will be led into victory. We can have confidence in this.
"Lead us not into temptation, but deliver us from evil. For Yours (it is His to execute, ours to pray) is the Kingdom, the Power and the Glory, forever and ever. Amen!"
Back