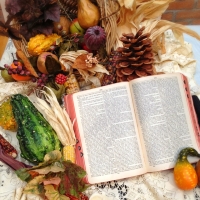 Thanksgiving Time
By Sharon Ruckman | November 2, 2015
Thanksgiving Time
Thanksgiving time, a time for family, remembrances, and thankfulness for what we have in Christ. But most of all, remembering what Jesus Christ accomplished on the Cross. Let us remember His suffering, the salvation that came, and thru that salvation soundness, perseverance, healing, wholeness and eternal life. Let others know how thankful you are and what God has given you. God is due glory, honor and praise, praise that is continually on our lips. Happy Thanksgiving.

Psalm 100:4 Enter into His gates with thanksgiving, And into His courts with praise. Be thankful to Him, and bless His name.

Philippians 4:6 Be anxious for nothing, but in everything by prayer and supplication, with thanksgiving, let your requests be made known to God;

Psalm 95:2 Let us come before His presence with thanksgiving; Let us shout joyfully to Him with psalms.

Revelation 7:12 saying: "Amen! Blessing and glory and wisdom, Thanksgiving and honor and power and might, Be to our God forever and ever. Amen."

1 Thessalonians 5:18 in everything give thanks; for this is the will of God in Christ Jesus for you.
Back