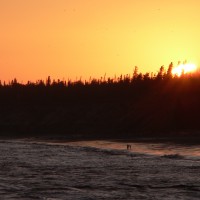 Tides are Coming In
By Sharon Ruckman | April 1, 2012
The tides are coming in, the signs. In this day and age, false teachers and false prophets are trying to change the way we Christians believe. They preach words that are pleasing to the ears and mind, words that don't make you feel afraid, guilty and/or condemned but they change the Bible to fit their false teaching. Don't listen to them. If their words do not line up with the Word of God, your Bible, do not go their way. If you have a check in your spirit (question or doubt) about what your preacher said, your Bible teacher or even your believing friend said, check it out.
2 Peter 2:1-2 But there were also false prophets among the people, even as there will be false teachers among you, who will secretly bring in destructive heresies, even denying the Lord who bought them, and bring on themselves swift destruction. 2 And many will follow their destructive ways, because of whom the way of truth will be blasphemed.
1 John 1:1 Beloved, do not believe every spirit, but test the spirits, whether they are of God; because many false prophets have gone out into the world.
Romans 12:2 And do not be conformed to this world, but be transformed by the renewing of your mind, that you may prove what is that good and acceptable and perfect will of God.
Mark 9:39-40 Now John answered Him, saying, "Teacher, we saw someone who does not follow us casting out demons in Your name, and we forbade him because he does not follow us." But Jesus said, "Do not forbid him, for no one who works a miracle in My name can soon afterward speak evil of Me. 40 For he who is not against us is on our side.
Back