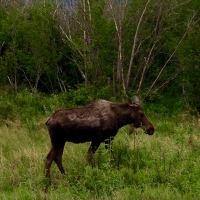 Trust in the Lord
By Julie Ruckman | September 1, 2015
Trusting In The Lord

Many of you know, I just got my first moose ever. It was a wonderful exciting experience for me. During my four days of hunting, I learned so many things along the way. One, and the most important one was, to listen and obey the Lord when he is talking to you.
You see, on my first day of hunting, I could of had my moose if only I had did what the Lord told me to do.

I just got settled in my recently built 5 Star moose stand, when I heard him eating in the bushes. My heart started to pound and my body shook. As I looked through the scope I could barely see him, so I had asked the Lord what should I do? I felt like He was telling me "not to move". However, when I saw the moose eating and moving so fast, I started to panic. So my thought was I need to do something NOW! In my hopes of catching him, I probably scared him away. I then spent the rest of the day going back and forth on the trail hoping I could get another glance at him. As a result, my first day of moose hunting was not a success. Needless to say, I was bummed! Every time I heard a shot in the neighborhood, I would start to doubt and think someone took my moose. Brian would encourage me and tell me they are just practicing.

Sometimes when we are waiting on the Lord, we get to anxious for a speedy result. Yes, the Lord told me to wait, and I got anxious trying to get that moose. I took matters into my own hands. I didn't trust what the Lord was telling me on the inside.
Proverbs 3:5-6 Trust in the Lord with all thine heart; and lean not unto thine own understanding. 6 In all thy ways acknowledge him, and he shall direct thy paths.

On my fourth day of hunting, I finally got my moose. My success was because I trusted the Lord. Brian and I went for an evening hunt. I in my tree stand and Brian on the hill. As soon as I got up in the tree stand, I could hear the moose's rack lightly hitting against the trees. The Lord told me very clearly, "Do not move from this stand." Many times I could hear him, but I could not see him, and many times my flesh just wanted to get down from that stand and go look for him. I just kept getting from the Lord, "Don't move from the stand." Just right before dark, I got the "green light" to get down from the stand. As I walked quietly up the trail, their was my moose in the field.

Isaiah 55:8-For my thoughts are not your thoughts, neither are your ways my ways, saith the Lord.
While I was learning to be patient in the moose stand, I once again had the opportunity to learn to trust God in what he was saying to me.
Back