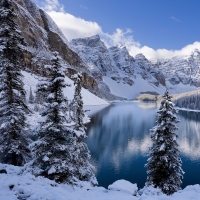 Walking with Jesus
By Brian Endle | November 1, 2014
When Peter asked about John's future in John 21:21 saying "and what shall this man do?", Jesus answered and said "If I will that he tarry till I come, what is that to thee? follow thou me." The Lord wants us to follow Him on the path He has for us, not on the path He has for someone else.

The Word says in Proverbs 8:20, "I lead in the way of righteousness, in the midst of the paths of judgment". In Psalms 23:3 it says, "…he leadeth me in the paths of righteousness for his name's sake." If we read Proverbs 8:21 and Psalms 23:5-6, we see the goodness that God wants us to walk in. Each step we take in Him, we see more of His goodness. We follow God by faith because we know and believe that He is good. His sheep follow Him for they know His voice according to John 10:4.
Jesus said in John 14:6, "I am the way, the truth, and the life". Look to Jesus to show you where your next step is.

Jesus just told Peter of the way he would glorify God, and I'm pretty certain that it didn't appeal to his flesh. As he looked at John after seeing things that would come to pass in his life, he asked Jesus, "and what shall this man do?". John was not the way for Peter, nor was Peter the way for John. Jesus is the way. Follow Him.
Back